Low stock
Roll over: Long and Intense.
Enticingly perfumed and richly fragrant with fruity notes of apricot and citrus followed by vanilla "rancio". Light and delicate in the mouth, with the gentleness of slow ageing. Full and soft finish, developing into fruit.
Acknowledged by experts as the leading producer of the very finest and best Cognacs, Delamain is one of the oldest names in Cognac and one of the last remaining family owned and operated firms. All Cognacs are made exclusively from grapes grown in Grande Champagne, and attention to detail, dedication to quality and respect for traditions are the hallmarks of this famous brand. Only aged XO Cognacs carry the Delamain label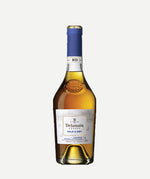 Low stock
Roll over: Révélation is a limited series of Malaville Single Vineyard bottles. Bottle # 063 of 460 produced.
This vintage 1995 orginates from the small hamlet of Ambleville, in the southern part of Cognac's finest terroir, La Grande Champgane.
Situated over a geological fault line, the vines of Ambleville benefit from optimal soil conditions, the roots reaching deep into the chalky sub soil.
Aromas – a hint of pepper, spices and buttery chocolate aromas. Taste – coffee and spices, leather, aniseed and stewed cherries Style – fantastically rounded and full

Age - 26 years old Cellar - Vintage
Single Cask Nº - 252-01 Distillation - on fine lees Cellar - damp
Cask - oak, 350L, well-seasoned Filtration - Low pressure Reduction - Natural
Strength - 42.5% vol. Bottled in - June 2021