D 95
WS 93
Roll over: Top Wine in Cuisine Magazine Champagne ranking!!
"For over 210 years the Henriot family has symbolised an innovative approach and has remained independent. This chardonnay dominant champagne house incorporates an exceptionally high proportion of Premiers and Grands Crus in its cuvées, which come from the best Chardonnay parcels. Producing only 1.3 million bottles a year, this family owned house features a long-aging style and a focus on Chardonnay. Says 8th generation managing director, Thomas Henriot: "I do not like wines that go in strange directions. I like to know where we are and where we are going. Full malolactic fermentation provides soft structures, with dosages between 8 and 11 g/L." Tyson Stelzer, The Champagne Guide Pale Pink.
""Spicy baked red and blackberry nose with a whiff of struck-match. The palate offers almond cake and red berry notes and glimpses of butter, nuts and lemon macaroon. A very good rose to match salads and barbecued fish. High-pitched aromas of red berries, blood orange, ginger and chalky minerals, with an element of Asian spices emerging with air. Juicy, spicy and firm, showing surprising volume and very good energy to the spice-accented blood orange and strawberry flavors. This silky, penetrating, linear Champagne carries no excess fat. Closes on a dusty mineral note, with excellent clarity and length." 95 Decanter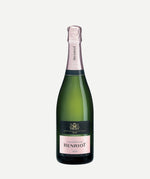 BH 92
WS 91
Roll over: Top Wine in Cuisine Magazine Champagne ranking!!
"Henriot is a Champagne house for insiders – it does fly under the radar but produces exquisite Champagnes. For over 210 years the Henriot family has symbolised an innovative approach and has remained independent. This chardonnay dominant Champagne house incorporates an exceptionally high proportion of Premiers and Grands Crus in its cuvées, which come from the best Chardonnay parcels. Producing only 1.3 million bottles a year, this family owned house features a long-aging style and a focus on Chardonnay. Says 8th generation managing director, Thomas Henriot: "I do not like wines that go in strange directions. I like to know where we are and where we are going. Full malolactic fermentation provides soft structures, with dosages between 6 and 11 g/L." Tyson Stelzer, The Champagne Guide
"Henriot in general aims for understated wines and like the regular Souverain, this is has a distinct yeast component but it's more restrained than the vast majority of examples in this review. The reserved nose features notes of green apple and white rose with the aforementioned yeast present only as a nuance that leads to crisp, refined and very pure flavors that offer both excellent cut and fine detail. It will also age extremely well and for my taste, I would allow it another 2 to 3 years first as it will repay your patience amply. Lovely juice." Burghound 92/100