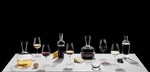 Buying gifts for the oenophile doesn't need to be a torturous task. In fact, it's never been easier thanks to the clever partnership between the world's most respected, celebrated and revered wine critic and journalist Jancis Robinson, (OBE and Master of Wine) and Richard Brendon who has changed the face of tableware with his collections designed for Harrods, Gleneagles and Fortnum & Mason among others.
The Jancis Robinson Collection
Pairing wine expertise and refined design, The Jancis Robinson Collection is the result of a truly collaborative cross-disciplinary partnership between Richard and Jancis. The Wine Glass is at the heart of the collection and has been specifically designed to
offer the best tasting experience for every wine, whatever its colour, style or strength, including Champagne, port, sherry and beyond. The stemmed glass is joined by a stemless Water Glass and two decanters, each of which has been mouth-blown by master craftspeople in Bohemia using beautifully bright lead-free glass.
As well as being functionally perfect, The Jancis Robinson Collection has been meticulously designed to look and feel refined, elegant and timeless. The curves from the wine glass run throughout the collection ensuring all of the pieces sit perfectly together. The ultra-fine, but remarkably strong, mouth-blown glass puts the wine drinker in intimate contact with the wine, while creating perfectly balanced pieces which cannot be matched by even the best machine-blown glass.
Shop the Jancis Robinson Collection
Richard Brendon Crystal Barware
For the whisky and cocktail lovers, it's impossible to look past the crystal barware by Richard Brendon. His contemporary and timeless barware collection is produced entirely by master craftsmen and heritage industries around the world. Much like an artisan winemaker or distiller Richard cares deeply about the provenance of the products and is committed to working with, and supporting, the heritage craft industries that make the goods.
The Diamond Collection (pictured above) is exquisite; as light passes through the crystal it is brought to life by refractions which create a myriad of colours and glistening sparkles. The Fluted Collection (pictured below) was designed for the American Bar at Gleneagles and draws inspiration from the decadent cocktail culture of the 1920s.
Shop Richard Brendon Crystal Barware Collection
So bring a little bit of luxury under the Christmas tree this year and enjoy the experience of sipping your preferred tipple from these refined objects of true beauty, craftmanship and perfect function.