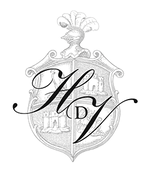 For some, wine is simply a beverage. To us, each bottle has a story to tell which is why our cooky retail collection hits to spot for wine lovers. For instance, not everyone (us included) has the opportunity to taste Domaine de la Romanée-Conti (DRC is widely considered the greatest red wine producer, and amongst the world's most expensive).  But when the de Villaine family of DRC teamed up with the Hyde family of Napa Valley, some of that greatness reaches our finger tips.
Hyde de Villaine (HdV) is a venture between the Hyde Family of Napa Valley and the de Villaine Family of Burgundy. The families, related by marriage, share long histories in French and Californian winemaking. In HdV, they have brought together their knowledge and experience for the purpose of creating single vineyard wines from the slopes of Hyde Vineyards.
Now that's a bottle worth reaching for!